10-Year Anniversary of The Matrix
Coilhouse – Latex/Guns/Gnosis: The Matrix Turns 10:
To date myself, I was 16 at the time and came out of the theater utterly energized. I wasn't the only one. William Gibson dubbed it "an innocent delight I hadn't felt in a long time." Darren Aronofsky raved that it heralded a new age in sci-fi. Neil Gaiman and Poppy Z. Brite wrote stories to fill out the movie's universe.

It became a phenomenon, immensely successful and influential beyond anyone's expectation. Hell, conservative scolds even blamed the movie's anarchistic heroes for the Columbine massacre.

The Matrix worked because it managed to blend philosophy, allegory, action and fashion into one glorious, fun package.
and XKCD: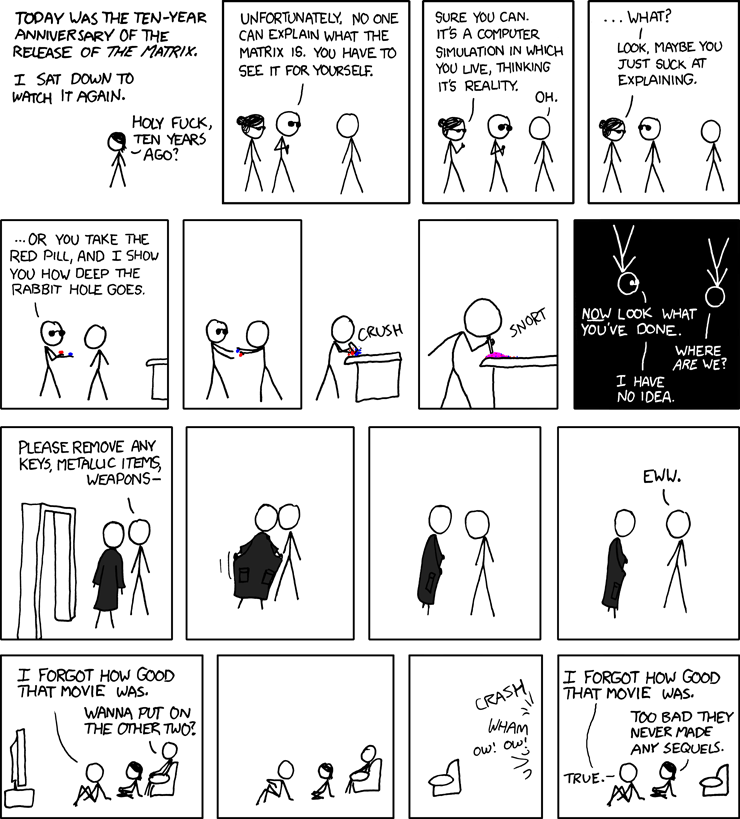 I watched it last night. I don't really ever get the same rush from a movie twice, but it was still as good as I remembered it being. I'll attempt to highlight a couple of movies that I would rank as being just as good/better despite having substantially smaller budgets/box-office sales:
eXistenZ – Eerie and creepy and psychologically thrilling (disturbingly so) as well as science-fiction-y.
The Thirteenth Floor – Nearly more discouraging outlook regarding the nearly solipsistic outlook presented by The Matrix.